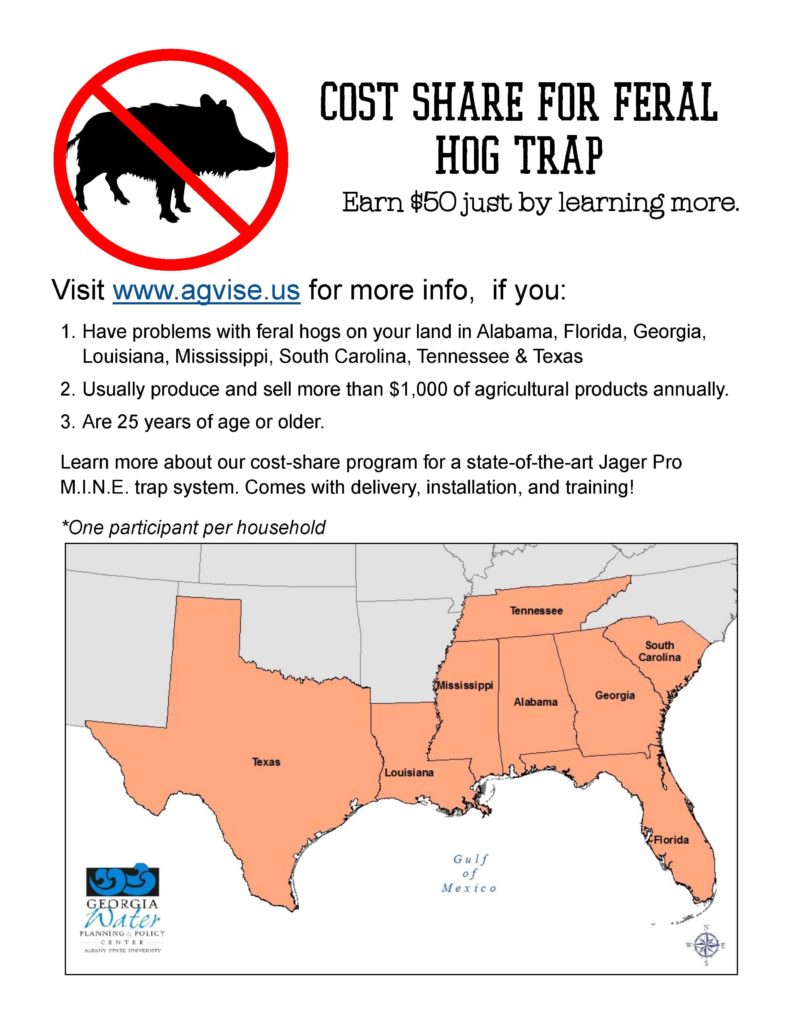 Please help us share this email information and flyer through your networks!
Farmers in the Southeast are eligible to participate in a unique cost share program for a state of the art hog trapping system. Please see the attached flyer for more details. In short, farmers have the opportunity to name their own cost-share amount (bid) on a Jager Pro M.I.N.E. trapping system complete with delivery, installation, remote monitoring and training. The entire process takes less than 20 minutes and we will pay each farmer $50 for participating whether they submit a bid or not. The auction will run from October 17 through October 31. Producers in Texas and Louisiana can participate online at http://www.agvise.us. Below are links to a video highlighting last year's auction as well as a spot that ran last weekend on the Georgia Farm Monitor.
Hog Project – GA Farm Monitor – Oct 2017
For more information, email agviseus@gmail.com or call (470) 222-6351
Feral Hogs are estimated to annually cause $52 million in damage Texas, $80 million dollars in damage in Georgia, and about $1.5 billion nationwide. AgVISE is studying programs that allow farmers to 'set their own cost-share.' In most conservation programs, government administrators set the cost-share amounts, and farmers can take it or leave it. The AgVISE project is aimed at determining if letting farmers set their own cost-share is a better way. Our goal is to make recommendations to USDA and state agricultural programs.