Keynote Speakers for 2017 Urban Riparian Symposium
Thursday Morning Keynote Speakers:
Ann L. Riley PhD
Ann L. Riley is the Watershed and Stream Protection/restoration adviser for the San Francisco Regional water Quality Control Board. She is also executive director of the Waterways Restoration Institute, where she works on the design and installation of stream restoration projects. She has also been involved in the evaluation of national water policy for the National research Council, the Institute for Water Resources, and federal task forces. She has published two books: Restoring Neighborhood Streams  and Restoring Streams in Cities.
Presentation: The Bar Room Brawl: Who Has The Right Approach to Urban Stream Restoration?
As the practice of urban stream restoration has matured,  a number of competing schools of thought have developed over time on the best way to achieve good restoration  project design. Engineers often prefer analytical tools such as hydraulic models and biologists view restoration  within an  ecological framework, concerned with more variables. Fluvial geomorphologists use channel evolution models, process based  watershed and stream channel assessments, often focused on sediment supplies , discharge and channel slopes, while some prefer using  hydraulic geometry in which they apply relationships between watershed drainage areas and channel dimensions. Many academic geomorphologists prefer a more passive approach to solving stream problems focusing on modifications to the watershed such as stormwater management.  Bar room brawls can break out between adherents of these different schools of restoration practice. Can't we all just get along?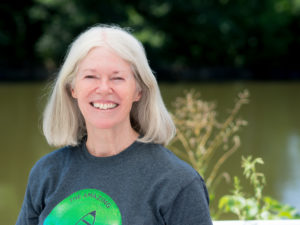 Linda R. Cox
Linda R. Cox is the Executive Director for the Bronx River Alliance and Bronx River Administrator for NYC Parks. She has extensive experience in managing collaborations among government agencies and community groups. Prior to joining the Alliance and NYC Parks in 2002, Linda directed the Urban Parks Program as Program Officer for the Lila Wallace-Reader's Digest Fund. She has previously served as Director of the Planning Center, the community assistance arm of the Municipal Art Society; as director of Community-Based Planning for the NYC Department of City Planning; and as Planning Manager for the City of Gainesville, Florida.
Reclaiming the Bronx River: A Story of Community and Collaboration
The 23-mile Bronx River runs through some of the lowest-income neighborhoods of New York City and some of its most affluent suburbs. Long neglected and degraded, it is becoming a source of pride and renewal for the Bronx. How does that happen? Linda Cox will explore some of the methods the Bronx River Alliance and New York City Parks Department have used to ground the reclamation effort in the community and engender collaboration among diverse partners, from community groups to federal agencies. She will address some of the challenges and policy questions that arise in renewing and creating access to an intensely urban river.
Friday Morning Closing Speaker:
Carolyn White
Carolyn White is the Conservation Manager at Memorial Park Conservancy in Houston, Texas responsible for ecological and stream restoration projects. Her start with the Conservancy is coincident with implementation of the park's major master plan, which is based on principles of conservation and environmental planning. Previously, she was a Project Manager for the Harris County Flood Control District Stormwater Quality Department where she managed geomorphology, water quality, and revegetation projects. She serves on the Advisory Board of the Bayou Preservation Association. Ms. White holds a Masters Degree in Landscape Architecture and Environmental Planning from The University of California – Berkeley and a Bachelors of Arts Degree in Geology from Carleton College, Northfield Minnesota. She has completed all four levels of Wildland Hydrology's fluvial geomorphology and design courses.
Presentation: Making Natural Stable Streams Work In An Urban Setting
Houston regional challenges of flooding, degraded water quality, and growing pressures of streamside access, among other factors, makes it a particularly difficult setting for natural streams. The iconic Houston stream, Buffalo Bayou, demonstrates important balancing acts required in this urban setting. From reservoir to tidal shipping channel, the bayou represents a continuum of challenges that require innovative solutions for stream stability, water quality enhancement and public use. Channel roughness and conveyance capacity is balanced with streambank stabilization provided by riparian habitat. Stream access trail construction is balanced with streambank stability and lateral drainage. Paddle trail access is balanced with instream habitat.  And, ultimately, public right-of-way is often the limiting factor in achieving stable channel geometry, as well as proper interception of stormwater flows prior to reaching Houston's bayous and Galveston Bay.
This presentation outlines a framework for watershed planning that includes geomorphic assessments, streambank erosion rate analysis, water quality, and riparian habitat enhancement. Examples of challenging scenarios are provided as well as guidance on stream design criteria.
Design initiatives to incorporate principles of fluvial geomorphology or natural stable channel design are presented within the context of the Houston area urban drainage system. Regional curves that provide channel dimension relationships for geomorphically stable channels are referenced, as well as design manuals available to guide local development of natural channels.