Waller Creek Restoration Session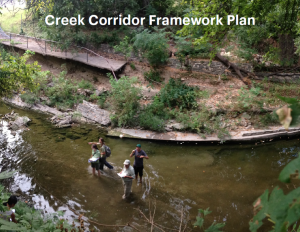 Waller Creek runs through the oldest and arguably most famous parts of Austin, including the University of Texas and downtown Austin.  It is at the same time venerated and infamous, a place where the citizens and visitors to Austin might have their best and worst memories.  It is also prime real estate, and through a decades long redevelopment effort, is undergoing a radical transformation.  This session will look at Waller Creek as the poster child for the Urban Creek Syndrome, and how it is being restored, from dramatically reducing flood levels with a massive 25' diameter tunnel, to a comprehensive restoration plan that includes ecological, recreational and architectural components.  Lead designers Michael Van Valkenburgh Associates will be joined by primary stakeholders the City of Austin and the Waller Creek Conservancy in this discussion of what restoration looks like in Austin in 2015.
Session Agenda:
Existing conditions: Waller Creek, a very urban stream (City of Austin, Mateo Scoggins) – 15 min.
A new Waller Creek: The tunnel and the formation of the district (City of Austin, Kristin Pipkin) – 15 min.
The Waller Creek Conservancy and the design competition (Waller Creek Conservancy, Melba Whatley) – 15 min.
The Waller Creek Corridor Restoration: process and product (Michael Van Valkenburgh Associates, Gullivar Shepard) – 20 min.
The structure and function of the new Waller Creek (MVVA/LimnoTech, Tim Dekker) – 15 min.
Moderated discussion and Q &A (City of Austin, Mike Kelly) – 30 min.