Moonlight Hikes on February 12, 2015
Two Moonlight Hike options are being provided free of charge by the Austin Water Utilities on Thursday, February 12, 2015. Space will be limited.
WHAT TO EXPECT
Moderate hike with elevation change and steep inclines.
Plan on staying for the entire hike.
Smoking, pets, and collecting are not permitted.
No bathrooms or running water available.
Photos from previous hikes-www.flickr.com/groups/austinwildlands/
 WHAT TO BRING/WEAR
Drinking water
Clothing for off trail hiking
Sturdy, closed-toe hiking shoes
Pants
Head lamp or flashlight
HOW TO SIGN UP
Send request to Staryn Wagner at Staryn.Wagner@austintexas.gov.
Include the following information:
Email address
First and Last Name
Phone Number
Address
Number Reserved
MOONLIGHT HIKE 1: Night Explorations on the Balcones Canyonlands Preserve-Vireo Ridge
2/12/2015 8-10pm
Link for directions: https://goo.gl/maps/RiibC (see attached map and details if needed)
Background: (www.balconescanyonlands.org)
The Balcones Canyonlands Preserve is a success that balances the need for the City of Austin to grow with the need to protect endangered, threatened and rare species. We'll hike through the night and learn about its history as the first multi-agency multi-species habitat conservation plan in the nation. We'll enjoy frog choruses and coyote yips to a starry sky, we'll tune your senses to the sights, sounds, and smells of the hill country.
Limit:20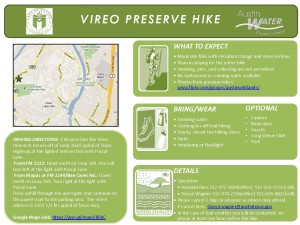 Moonlight Hike #2: Best Sights are at Night on Austin's Water Quality Protection Lands
2/12/2015 8-10pm
Link for directions: https://goo.gl/maps/1rmLL
Background: www.austintexas.gov/wqpl
Austin was one of the first City's in the nation to enact a plan to purchase land in order to protect the water quality and quantity of its creeks, streams and groundwater. So far the City manages just under 27,000 acres of land in the recharge and contributing zones of the Edwards Aquifer. On this night hike we'll explore the riparian corridors of Slaughter Creek using only a flashlight. This hike will be led by the director of the Water Quality Protection Lands, Dr. Kevin Thuesen.
Limit: 20
SPONSORED BY: