Sponsors of the 2017 Urban Riparian Symposium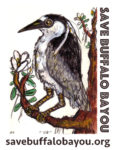 Sponsorship includes logo on all materials and complimentary registrations.
Creek Sponsorship $500 – includes logo on all materials and 2 complimentary registrations.
River Sponsorship $1,000 – includes logo on all materials and up to 4 complimentary registrations and parking vouchers.
Payment can be made by sending in Sponsorship form with registrants information and mailing in a check or paying by credit online through PayPal by clicking the Buy Now button below. If paying by credit card please mail or email us the form with registrants information. Please email us a high quality graphic file of your logo.
For more information or questions, please contact Nikki Dictson at 979.458.5915 or n-dictson@tamu.edu.